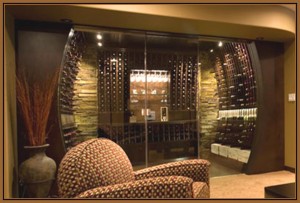 A wine cellar is a climate-controlled place ideal for storing your wine collection since it provides wine with the right environment needed to maintain its quality. There are many wine collectors in the U.S., including New Jersey, who invested in residential wine cellars not only to ensure proper preservation of their favorite vintages, but also to enhance the beauty of their homes.
Wine cellars are designed not only to keep wines in a stable environment, but also to keep them from vibration, direct sunlight, and strong odors. These factors can cause damage in wine.
There are a lot of things to remember when keeping your collection inside a custom wine cellar. Two significant aspects of a wine cellar are the cooling system and the wine cellar door. Let us discuss each one of them for us to better understand their importance and function.
The Wine Cellar Cooling System
Too much heat or cold in the environment can negatively affect the quality of wine being stored for several months or years. With an effective wine cellar cooling system, fluctuations in temperature and humidity can be avoided keeping your wine safe and protected.
The wine cellar cooling unit has 2 main components: the evaporator and condenser. The evaporator is ideally placed indoors. It has a thermal expansion of which the main function is to remove heat or hot air from the New Jersey wine cellar through liquid refrigerant evaporation.
The compressor, which is contained in the condenser (placed outdoors), is responsible for compressing the vaporized refrigerant back into its liquid form. The condenser coils remove heat when warm air reaches the surface of the coils. It must be coated for it to become resistant to corrosion.
Airborne pollutants that come in contact with the coils are the main cause of corrosion. The fans of your wine cellar cooling unit must be both quiet and have the ability to cool a wine cellar effectively.
Wine cellar cooling systems vary depending on the size of the cellar, so it is wise to contact a company that has extensive experience in the wine cellar industry such as Coastal Custom Wine Cellars. They offer reliable brands of cooling units – WhisperKOOL, CellarPro, and US Cellar Refrigeration Systems. Click here to learn more about their wine cellar cooling products.
The Wine Cellar Door
After choosing your wine cooling system, you should also consider the kind of wine cellar door to get. Your wine cellar door is not just an ordinary door, it is the entrance to the wonderful world of your wine collection. Thus, it is imperative that you choose the best for your wine storage needs.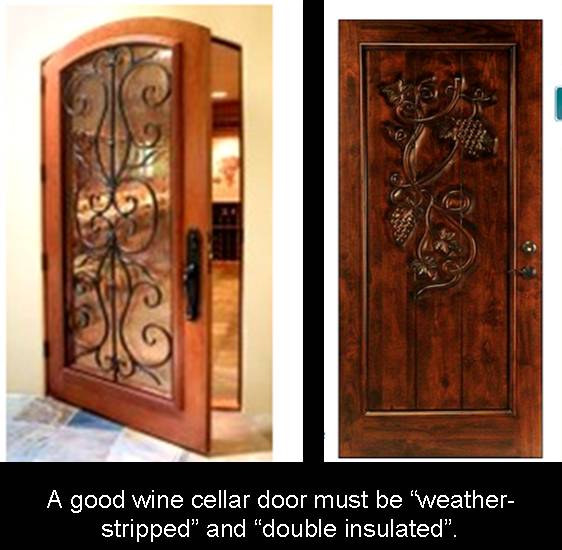 Wine cellar doors come in different styles and materials. They can be made of wood, wrought iron, or glass. They can also be a combination of materials depending on your preference.
The kind of wine cellar door must be carefully selected for functional and aesthetic purposes. Usually, the wine cellar door is a conversation piece in itself when one has guests at home, especially when the wine cellar is placed in the dining area or near the living room. Having said this, the wine cellar door is considered a piece of art.
A good wine cellar door must be "weather-stripped" and "double insulated". This means that the door should be tight and secure to protect the wine bottles inside the cellar.
If you want to have a rustic or vintage touch in your wine cellar, use wrought iron for the material. On the other hand, a modern and stylish look can be achieved with the use of glass. Ensure that the glass is double-paned to reduce the noise and avoid vibration coming from the outside. If you prefer wood, remember that it must be of "exterior grade" so that it will provide good insulation to your New Jersey custom wine cellar.
The wine cellar door and wine cellar cooling system are two vital aspects of a wine cellar. They play a big role in the graceful aging of wine. When wine is stored in a stable environment, the aroma and quality of the wine are enhanced, resulting in a memorable wine drinking experience with family or friends.