The Kapur's space was just 152 inches deep and 53 inches wide. Coastal maximized the small storage space by placing the wine racks along the left side and keeping the design simple. Check out the 3D design for the Short Hills, New Jersey custom wine cellar by clicking here.
The Wine Racks & Wood Material 
When it comes to wine rack design, a universal opening was used on the top row to store standard size wine bottles. At the bottom of it is a single high-reveal display wine bottle storage. The advantage of this display is easy viewing of the wine labels because it pitches the bottles in a 15-degree angle.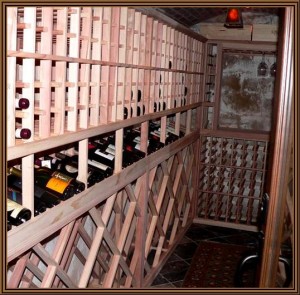 Diamond bin storage at the bottom was made for odd-shaped and large format bottles. Since the Kapurs were on a tight budget, they opted for redwood which was not only affordable but also had the ability to maintain proper air circulation in and around the bottles.
The lattice design was created using 1 x 2 inch redwood slats. Another feature of this New Jersey custom wine cellar is the table top which allows a surface wherein the Kapur family can pour their favorite vintage.
The wine cooling system used for this project was the Whisperkool XLT. This model is reliable, easy to install and a money-saver since no HVAC contractor is needed.  It was also an ideal choice for a small-spaced wine room.