At one point or another, a serious wine collector will need a wine cellar for his growing collection of wine bottles. He will need more room or more wine racks to accommodate all the bottles. The only thing more important than the wine bottles themselves is the collector's storage option.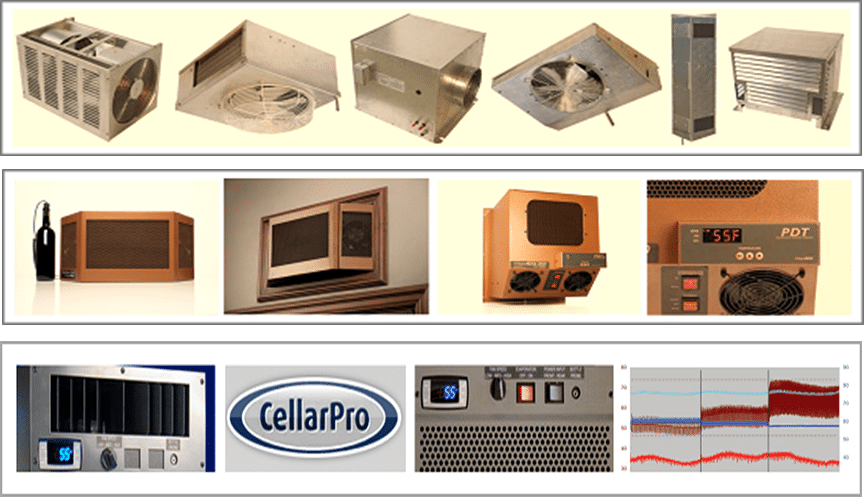 The cooling system's aim is to regulate the temperature and humidity inside the wine cellar. This is very important for wines to age properly and to maintain their overall quality. You don't want your wine collection- your investment- to be ruined due to your failure to buy an efficient cooling system.
The market today has a lot of wine cellar cooling system options for you to choose from. But as with most things, it is not wise to just go out and buy the first cooling system you see. There are several things one must consider before choosing and buying one for their wine cellar.
Choosing a Wine Cooling System – Factors You Must Consider
You must consider the size of the wine cellar and its location in the house. The cooling system will largely depend on the size of the room and its location in the house. If the room is big and directly under the rays of the sun, a bigger cooling unit might be needed.
The kind of cooling system is also dependent on the location of the room. If the warm air from the wine cellar is blown out into another room, the second room must be air-conditioned also to keep it cool. The wine collector may opt for a split wine cooling system with the condenser placed outside of the house, thus minimizing noise and release of warm air.
2. Size of Wine Collection 
The number of bottles you have and intend to store in the wine cellar should be considered. One has to be sure that the cooling system will be able to cool every bottle stored in all corners of the custom wine cellar.
Cooling systems emit noise, much like a refrigerator or an air conditioner does. Noise should be a concern if the wine cellar is near living spaces like the bedrooms, living and entertainment rooms, and the dining area. If noise bothers you and other members of the household, get a cooling system that emits minimal noise. For restaurant owners, noise in a cooling system is a major consideration to avoid bothering the diners.
A cooling system is a big investment and so are your wine bottles. It is wise to choose a cooling system which is a bit more expensive as long as it will do the job for your New Jersey custom wine room.
More often than not, expensive and branded cooling systems will last longer and in the long run, can save you money. But of course, consider the value for your money against the cooling system's durability and reliability. You would not want a cooling system that will suddenly fail on you and ruin your prized wine collection.
As the cooling system will be running on electricity 24 hours a day, seven days a week, choose one that is energy efficient but will effectively do its job for your wine cellar. You wouldn't want any unreasonable hike in your electric bill!
Make sure that there is a product warranty that you can fall back on for at least a couple of years. Keep the warranty details inside the wine cellar to avoid it being misplaced and mixed with other papers/documents in your household.
Do your research before buying a wine cellar cooling unit. You may even ask the sellers if they do on-site consultations. You can also ask fellow wine collectors about the kinds of cooling system they rely on and gauge the advantages and disadvantages of each.
Since you will be spending a lot of money on your wine cellar cooling system, it is just common sense that you proceed buying with caution. After all, your precious wine bottles deserve the best care and storage you can provide without making much dent on your savings.