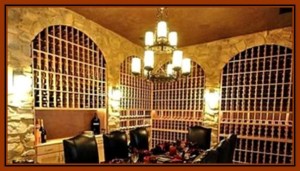 The beauty of having a residential custom wine cellar is that it provides easy accessibility to the finest wines at any given time.  This means never having to make a last minute trip to the local wine shop when you have guests to entertain or feel like pairing your meal with a refreshing glass of wine.
For many wine lovers around the world (including New Jersey) a home wine cellar is a great source of personal enjoyment and an excellent investment. There are various styles of wines that connoisseurs can store in their New Jersey wine cellars, but the most popular types are red and white wines.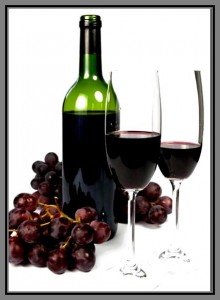 Red wines are produced from black grape varieties whose skins remain intact during the fermentation process.  Grape skins are what give red wines their red or blue tint.  These skins also contain tannins which provide a biting sensation in the back of the throat.
Red wines contain high amounts of antioxidants called resveratrols which come from grape skins.  Resveratrols helps combat blood clots as well as minimize cholesterol levels and blood pressure.
Some of the famous red wine varietals are Cabernet Sauvignon, Merlot, Pinot Noir, Shiraz, and Zinfandel.  Food and wine pairings can enhance the gastronomic experience because the combination can potentially unlock layers of texture and flavors.  In the case of red wines, they pair perfectly with red meat.
Serving and storage temperatures for wines vary.  The ideal temperature for serving red wines should be room temperature, between 60 – 65 degrees Fahrenheit.  Keep in mind that red wine needs to be aerated before serving in order to improve its characteristics, flavor, and aroma.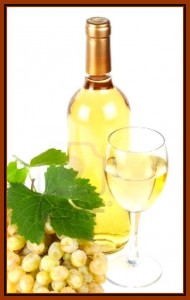 White wine is produced from white grapes.  Its color can range from straw-yellow to yellow-gold.  White wines are light in texture and taste.  Because of their refreshing quality, white wines are best when drunk during spring or summer time.  This light drink goes well with lighter meals like fish.  White wines also taste good when paired with cheese.
Popular types of white wines are Riesling, Chardonnay, Sauvignon Blanc, Pinot Gris, and Moscato.  The optimal serving temperature for white wine is 45 degrees Fahrenheit.  White wines are best served in glasses with smaller bowls to enhance their characteristics.
There are some health benefits from consuming white wines.  One is that they contain high levels of tyrosol and hydroxytyrosol which help prevent artery blockage and other heart ailments.
In order for both red wines and white wines to mature nicely, they should be stored in rooms where climate conditions are regulated by wine cellar cooling units. Ideal temperatures for storing wines are between 50 and 59 degrees Fahrenheit.  Constant temperature swings can accelerate the aging process and ruin the taste and flavor of wines.

Maintaining humidity levels is also an important factor.  The humidity range inside New Jersey custom wine cellars should be at 60% – 75%.   Going below or in excess of those levels can dry out the corks or promote mold growth that can damage the overall quality of wines.
Most importantly, wines should be laid on their side during storage to keep the cork in constant contact with the wine.  This prevents the cork from drying out.  High quality wine cellar racks are great tools for managing a large collection and they are designed to facilitate the correct positioning of wine bottles.