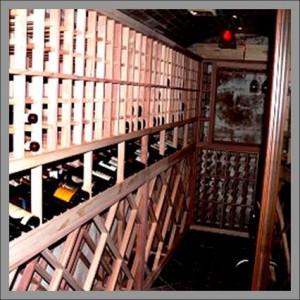 New Jersey wine cellars are designed to provide the best possible environment for storing and aging wines for a long period of time.  They are equipped with wine cooling systems that help regulate temperature and humidity levels.  Modern wine cellars not only function as storage spaces for wines but also serve as ideal locations for conducting wine tasting parties.
Deciding to install a wine cellar requires looking into several important things that can greatly enhance the efficiency and aesthetic quality of the New Jersey wine storage room.  Among the primary elements to consider are the size and location of the wine cellar, type of racking systems, flooring material, type of entry door, and lighting system.
The actual physical location of the wine cellar is essential to the project because this will help determine the amount of insulation and the type of refrigeration system to install.  The size and dimensions of the wine cellar depends entirely on the number of wine bottles the owner intends to have and whether or not the storage room should also double as an entertainment area.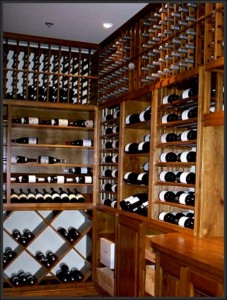 Racking systems are storage devices that allow owners to display and organize their wine collection.  Wine racks are designed to facilitate proper positioning of wine bottles.  Wines are stored on their side to keep the cork in contact with the wine, which prevents it from drying out.  A dried out cork can promote oxidation and cause the wine to spoil.
Wine racks come in a variety of pre-constructed styles and configurations.  Custom built racking systems are also available.  Compared to their pre-made counterparts, custom wine racks are usually built on site and are designed to adapt to the architectural constraints of the storage space.
The flooring material should be durable enough to hold the weight of the storage furniture and the entire wine collection.  Carpets are not a good flooring option and must be avoided because they can promote mold growth. Some of the most popular materials in wine cellar flooring are cork, wood, stone, and recycled oak wine barrel.
The Wine Cellar Door & Lighting System 
Installing an exterior grade New Jersey wine cellar door is one way to keep the desired climate conditions inside the wine room.  In order to maintain an airtight seal, the entry door must have an automatic door bottom and weather stripping on all sides.  Common types of wine cellar doors are solid wood, wrought iron, and glass.
Light sources in the wine cellar should be bright enough to allow owners to read wine labels and move about the room, but not too bright to generate heat that can cause temperature swings.
LED based lighting is highly recommended for wine cellar use.  These bulbs are energy efficient and emit less heat.  Adding dimmer switches and light timers not only reduce energy costs but also minimize exposure of wines to light.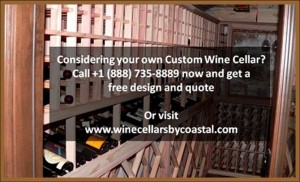 Consulting with a professional wine cellar specialists will help you design and install the wine cellar of your dreams. Get your FREE 3D wine cellar design and consultation by contacting Coastal Custom Wine Cellars at http://www.winecellarsbycoastal.com/contact.aspx.