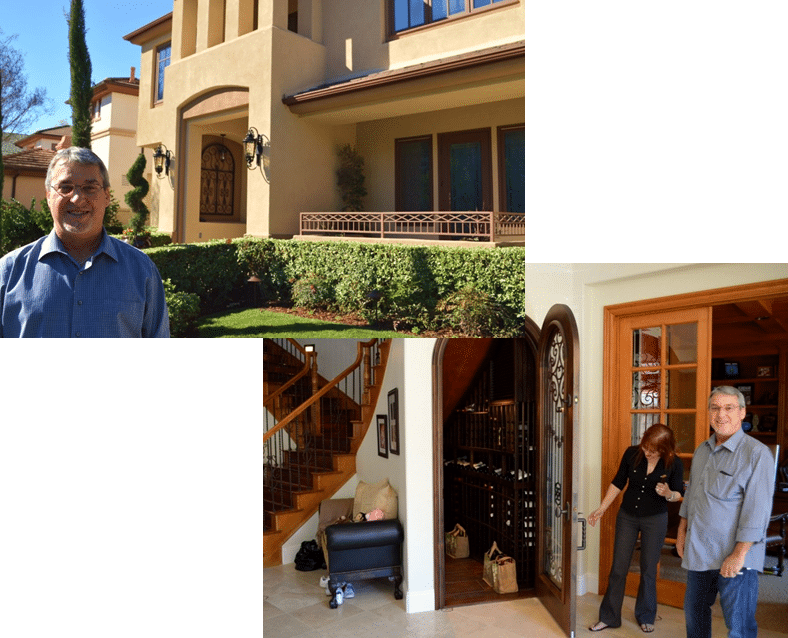 More and more wine collectors are investing in residential wine cellars to display their favorite vintages. Custom wine cellar designs installed and built in New Jersey and the rest of the east coast have their own distinct features incorporated with the owner's custom design.
One of the key features of the room is the long sweeping area under the stairwell. The under-the-stairs room used for the conversion is 9 feet high (tallest point) and 4 feet wide. With this small space, Coastal wanted to 
maximize space for wine storage
, so they knocked the wall out a bit to increase the wine room's depth. This custom wine cellar's final storage capacity was 518 wine bottles which is very impressive for such a limited space.
Vintage View and Mahogany Custom Wine Racks
On the left side of this California custom wine cellar is a metal racking display. By using 
Vintage View metal wine racks
, Coastal was able to add more storage space into the wine room because of its 4" profile. The metal wine racks added drama to the room and were finished with black satin which was chosen to complement the unique style of this home in Flax Court.
The racking on the right wall was custom built in Mahogany. A rustic stain with a clear lacquer, top coat, and finish were added by Coastal to enhance the beauty of  the 
wooden wine racks
.
Stylish Wrought Iron Tuscan Wine Cellar Door
Wine Cellar Refrigeration System
A ductless split refrigeration system was installed by Arctic Metalworks. With the condenser placed outdoors on the rooftop, the wine cellar cooling system is efficient and quiet. A specially constructed lattice style mahogany grill box and cover was use to conceal the evaporator. When it comes to quality commercial grade wine cooling systems, Artic Metalworks can be trusted.
Are you planning to start your own custom wine cellar project in New Jersey or California? Please feel free to contact Custom Wine Cellars New Jersey at +1 (732) 722-5466 and look for Mr. Jerry Wilson. To view more of their wine cellar projects, click here.